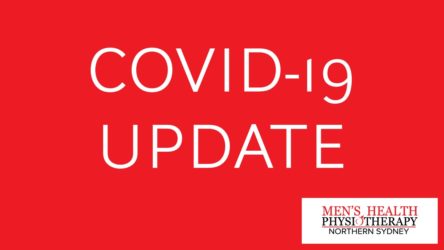 Last updated 17/03/2020 1:50pm
The current COVID-19 (coronavirus) situation is one that is ever evolving. At Northern Sydney Men's Health Physiotherapy we have taken steps to ensure the health & safety of our staff & patients, based on the best advise from the Department of Health, during the current COVID-19 pandemic. The actions that we take, will be constantly reviewed in line with advice that we receive & we will keep you updated.
💥 OUR CLINIC IS STILL OPEN & WE ARE STILL CONSULTING PATIENTS AS NORMAL 💥
🛑 WE HAVE IMPLEMENTED THE FOLLOWING MEASURES AT THIS STAGE 🛑
We ask that if you have returned from overseas (from any country) within the past 14 days, that you DO NOT enter our clinic.
We ask that if you have a fever, sore throat, cough or shortness of breath, that you DO NOT enter our clinic.
We ask that if you have been advised to quarantine or self-isolate, that you DO NOT breach this and enter our premises.
We have adjusted our appointment cancellation policy & cancellation fees will not apply to those outlined in points 1-3. Please contact the clinic ASAP on 8850 2212 to advise & reschedule your appointment to a later date if this applies. Non-attendance fees will still remain in place if you fail to advise us of your situation.
Hand sanitiser has been placed on the front counter & we ask all patients to use this on entering the clinic.
We have removed some chairs & increased distance between chairs in our waiting room to allow for greater social distancing.
We will not be greeting you with hand shakes or other contact hand gestures at this time.
We have increased our clinic cleaning, especially areas of known hand contact.
We will continue with our hand hygiene measures with our hands being washed before & after all patient contact.
TELEHEALTH CONSULTATIONS
We understand that there may be situations arise where it is not appropriate to consult patients in the clinic or you may not be wanting to come into the clinic. Where appropriate, it may be more suitable for telehealth physiotherapy consultations to occur. A telehealth consultation can take place either by phone or video call. We are working through the practicalities of offering this service & will look to make further announcements regarding this in coming days. If you are interested in this service, please contact the clinic on 8850 2212 and we can discuss this with you.
If you have any queries relating to these measures, please contact the clinic on 8850 2212.
We will continue to update you as the situation evolves.